Other Deities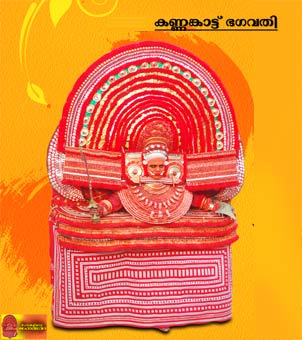 Kannamkattu Bhagavthi
Kannamkattu Bhagavathi is second in hierarchy among the goddesses in Muchilot Kavus. Kannamkattu Bhagavathi's story is linked with Lord Krishna. While in prison, Devaki delivered her eighth son, Lord Krishna .To save the kid from Kamsa, her husband Vasudeva took him to Ambadi and substituted Yahoda's baby girl child for his. He presented this girl child as his own. When Kamsa tried to kill this child fearing the forecast by a divine voice – which said that Devaki's eighth child would kill him. But the child escaped from Kamsa's hands and told Kamsa that his nemesis 'Kannan' is already born and alive. This Bhagavathi is known as Kannamkattu Bhagavathi. "Kannane kattiya Bhagavathi" which means Bhagavathi who has shown lord Krishna. Kannamkattu Bhagavathi is also worshipped by Maniyani community.
Download Large Image 1
Download Large Image 2

---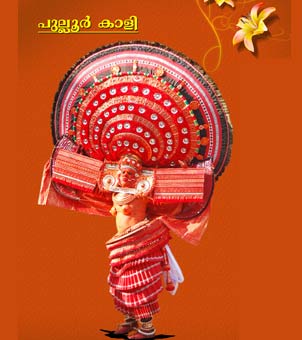 Pullur Kali Bhagavathi and Pullurnam Daivam
Pollur Kali is goddess and Pullornam or Pullur Kannan is male god. They are Puli (tiger) theyyams. The story about both theyyams goes like this: Lord Shiva and wife Parvathi were living in a forest as tigers. After a while, five tiger cubs were born. They were named as Kandappuli, marappuli, kalappuli,Puliyoor Kannan, Pullur kali. Immediately after the birth Shiva and Parvati gave blessings to the cubs and left for Kailasa.
The cubs played in the forest and started moving out of the forest once they became little older. They started moving around the village outside the forest. One day they ate cows belonging to Karumbranthiri Vazhunnoor. He got angry sent Karinthiri Nair to kill the tigers. He also met the same fate as the cows. After seeing no sign of Karinthiri Nair coming back from the forest, Karumbranthiri Vazhunnoor set off to look for him. His servants could not move the cart in which he was supposed to travel. He started praying to his family goddess and the cart started moving. Then he heard a divine voice saying that they are not ordinary tigers, they are gods in the form of tigers and Karinthiri Nair is with them. Karumbranthiri Vazhunnoor consulted with astrologers and started performing theyyam for tiger gods and Karinthiri Nair

Download Large Image 1
Download Large Image 2

---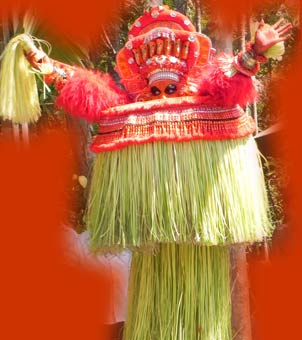 Vishnu Moorthy
Vishnumoorthy is one of the Theyyams worshipped at all Muchilot kaavus. Vishnu Moorthy represents one of the incarnations of Lord Vishnu. Vishnu moorthy is actually the Narasimham avatharam, who killed Hiranyakashipu and blessed Prahladhan.
Download Large Image 1
Download Large Image 2

---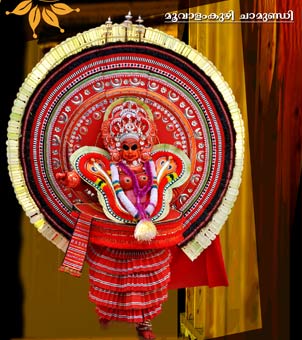 Moovalamkuzhi Chamundi
Among Muchilots Moovalamkuzhi chamundi is worshipped only in Karipody Thirur Muchilot. The story behind moovalamkuzhi chamundi revolves around rivalry between two Thanthri families. In between their tantric rituals, Chandika devi ( incarnation of goddess Durga) was born. Chandika devi was a peace loving goddess. One of the Thanthris locked the goddess in a chembu pathram (copper vessel) and buried it in a hole which was so deep that three people could stand on top of each other and still be underground. Devi was so powerful that she came out of the ground and ran after the enemies. As she reached Thrikkannad Shiva temple Lord Shiva calmed her down and gave her a place on the south of the temple. After this, devotees started worshiping Moovalamkuzhi Chamundi in Thrikkannad and surrounding temples.
Download Large Image 1
Download Large Image 2

---